Ariel Kalma is inspired by rhythms, melodies and grooves from various cultures, ambient atmospheres, modal music, native instruments and nature. Ariel likes to experiment with music: mix traditional sounds with modern arrangements, use electronica and special effects, play circular breathing on winds and didgeridoo, create original sounds from synthesizers. Ariel blends styles of music to produce original compositions with flavours of his own. His songs touch deep feelings of the search for simple truth in a metaphorical poetry.
During his study of Electronics, Computer Science, Music and Art at Paris University, Ariel Kalma was also performing with several bands and touring the world, visiting Asia, Africa, Japan, Canada and Europe, always listening to, sometimes playing with, the music and the people: different scales, colours of sound, timing and rhythms.

Over 3 decades, Ariel Kalma published a number of vinyl LP's, cassettes, and CD's. His compositions have been used for modern dance-theatre, films, advertising, musical poetry, relaxation and spa music, guided meditations, compilations, transformational groups. Ariel Kalma has also played on many albums in France - even throughout Europe, the US and recently Australia, where he lives.
In the year 2000 Ariel created his own world-fusion compilation label: Music Mosaic.
Ariel Kalma in residency at the Old Carpet factory on Hydra, Greece, September 2019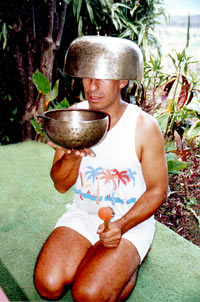 Discography:
Le Temps des Moissons (LP 1975, CD re-issue in 2008)
Osmose (LP 1978, CD re-issue in 2007)
Interfrequence (Library LP 1979)
Music for Dream and Love (cassette 1980, CD re-issue in 2006)
Chansons d'Esprit (recording 1982, CD 2006)
Endless Breath (recording 1982, CD 2007)
Open Like a Flute (cassette 1983)
Rainbow (cassette 1985)
Moonlight (cassette 1985)
Serenity (cassette 1987, CD re-issue in 2008)
Flute for the Soul (1994, CD re-issue in 2006)
Flowing Dreams (recording 1990, CD 2006)
My sax, my love (CD Gourmet Sax 1995, CD re-issue in 2006)
Spirit Dancer (CD 2007)
Chillout India (CD 2008)
Osmose 2 (2009)
Lazy Lizard (CD 2009)
Galactica Electronica (CD 2012)
Yo Yo Homme Nouveau (digital 2013)
Yo Yo A New Man (digital 2013)